Sage and I had a few more lessons after the video I posted back in December. The very next week we did his first canter under saddle!! When he was started under saddle a few years ago he was only at the trainer's for 3 weeks and she got him started walk-trot pretty well, but felt that being very tall she wouldn't be able to do a first canter on him without getting top-heavy and falling off. Then Sage was lame for a long time, I was sick, and we didn't get to ride much at all, let alone trot or canter.
It's been a long road getting him back in shape and sound enough to canter with a rider on his back. He's needed to be on a dry lot this year and lost a LOT of weight, which really helped his overall soundness but has NOT been good for keeping him in shape. That just meant prioritizing riding has been all the more necessary, which certainly isn't a bad thing. :D
I also worked hard this year on getting *me* back in shape. With my health issues mostly behind me I could focus on strengthening my muscles and becoming a good enough rider to do a first canter on my green horse. This spring I started out feeling shaky just posting the trot, but by this fall I was feeling much more secure.
I'm going to college part-time right now as well as working, but the nice thing is that my college allows non-traditional students to participate in campus activities. And...there's an equestrian club!! So this fall I started going out to the college barn and doing chores in exchange for lessons. That was in addition to taking lessons on Sage with our trainer. The great thing about the college lessons was being able to ride steady-eddie lesson horses and practice cantering again. I was really nervous at first! The ground seemed so far away and cantering felt really fast. But the more I did it the easier things got and now it seems like not a big deal.
The biggest surprise for me was that cantering on my lesson horse is actually *harder* than cantering Sage for the first time ever was. Sage is much narrower and my saddle fits him well...and he has a nice rocking horse canter. It was so much fun! The crazy part was that I had Swine Flu and was in bed for a week with a fever...and the first day I got out of bed was to go canter my horse!
The other big news is that Sage has moved to a new barn. He's lived at my mom's house with her horse for awhile now and my mom moved to a new house, that didn't have a barn. So her husband designed one for her and it was built at a blinding pace starting late this fall.
It was a bit nerve-wracking when we first moved Sage there because the construction guys were still finishing details on the barn and Sage kept *helping*. Everyday the construction guys had new stories for my mom. They thought Sage was great! The new barn is absolutely gorgeous. Here is Sage out in his new dry lot, exploring the barn;
(This area has been fenced off for our muck pile now--very handy to be able to just dump the wheelbarrow over the edge!)
Here's Sage's new stall;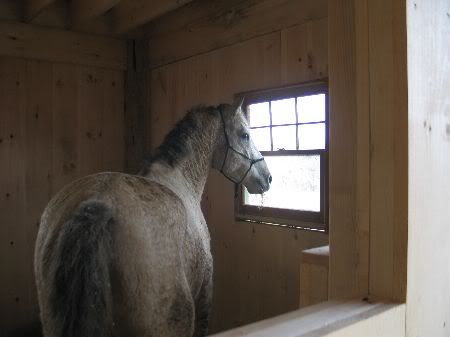 And where the stalls lead out to the dry lot for Sage;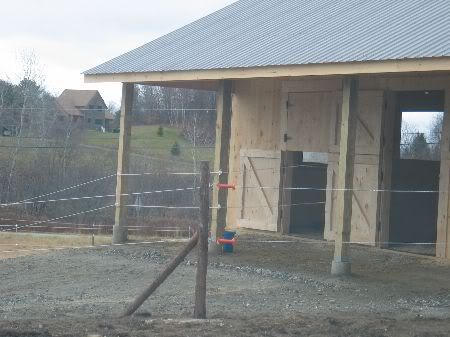 So, it's been a very exciting fall and will hopefully be an even better winter now that Sage is on a dirt road and near lots of trails. Here's to winter riding! :D