Hey everyone! Well, after nearly a month of not being able to ride due to a minor back injury, Sage and I are back out there blazing the trails. We had gorgeous weather recently and I was able to get out there for a trail ride in the sun and warm weather. Sage was well behaved, but had a bit of 'pep' as well after such a long time of not being ridden. We tackled big goofy dogs, and screaming jumping children (no problems there), and had one minor spook at a biker who FLEW past us without so much as saying 'on your left'. Thanks people!
We're scheduled for our first lesson in weeks on Wednesday morning so let's hope the weather holds. Meanwhile, a friend came over to see our new barn and meet our horses and was really impressed with the Natural Horsemanship we do. I love watching people's reactions when they see I can move our horses around with hand signals and body language... :]
Our rescued Curly mule is doing well and has lost her oats privileges since she has gained back some weight and is now out on spring grass. She's getting along great with my mom's Mustang mare Thea and seems pretty happy overall. Josie loves her walks though and hasn't had one lately due to a hectic life the past few weeks on my part. But...I am thinking she will get one later today.
Meanwhile, here's a picture...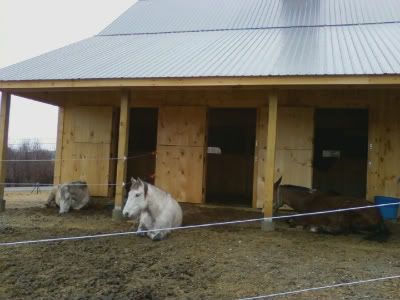 Naptime. :]