I have posted other places about this already but this is the first time I'm saying it here; for those of you who remember the Curly mule that was headed to slaughter a few weeks back...well, she's right in the pasture next to Sage now. :D
I convinced my mom she would make a great third 'horse' so my parents trucked on out to Pennsylvania to pick her up while I stayed behind and house-sat for them. My step-father has named the mule 'Josie' and we've had her for about a week now. We think she was used by the Amish as a team mule before being sent to the auction house.
Here's some pictures of her from yesterday. In the first one you can see where her mane has gone white due to scar tissue. Also, she's still dirty and matted in places because she won't let us touch her much yet. We're getting there though!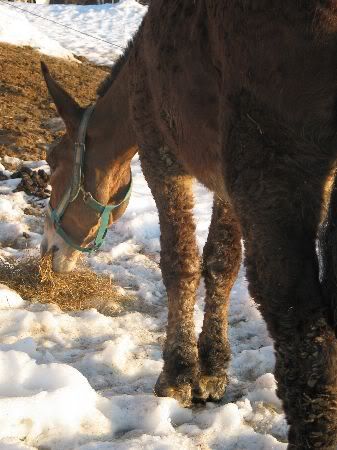 And of course one of Sage...
This warm sunny weather has been beautiful and Sage and I took advantage of it by going out on a short trail ride last Friday. Sadly Josie got quite upset and we made a mad dash back to the barn after she got loose. All's well that ends well and we were able to get her back where she belonged without too much trouble. Hopefully soon Josie will be right there with us, enjoying time out on the trails too.