Sage and I had our bi-weekly lesson last Friday and were lucky to have a very warm and sunny day! My instructor and I took both horses out on the road to explore in hand at first. Sage thought that was boring and so we worked on me walking along right by where I would be if I was in the saddle, with Sage out front and (hopefully) still listening to me.
Because he was bored Sage was more focused on eating than listening so we got him focused on sideways game, and listening to some very quiet cues from me. He did get a lot better, but I don't feel like he really tuned into me until I saddled him up and we led the way for Mom and her Mustang mare Thea to do their first ride out on the road. Our trainer led Mom & Thea and Sage was quite happy to be out in front. I've been pretty nervous about the footing on the roads but am happy to report that Sage only slipped once while I was leading him! The roads had been sanded very well and I felt reasonably safe riding out there.
Then our instructor had to leave so Mom and Thea went back to the barn and Sage and I went down the stretch of road that is prone to having buses and UPS trucks on it. Luckily there was not much traffic this time so we got to explore and get about half a mile away from the barn.
I love my horse; the further we got out of his comfort zone the more interested and happy he became. I know so many horses that get jazzed up or spooky when put in new situations and Sage is just the opposite; he is bored and rude in familiar situations and happiest with a new challenge. We went up and down that stretch of road 3 times and did some trotting too.
I am a little dismayed at how quickly I have lost my riding muscles; posting the trot was not the effortless thing it was back in October!!! But that made me all the more thankful to be be out riding in the winter like this, and keeping Sage in shape.
And trotting in the sun like that, and exploring new horizons with my horse; definitely the best moment all week. Ahhhhh. Can't wait to repeat it.
No pictures from that ride but the next day a friend of mine who is a professional photographer came out and did a photo shoot!!! :D :D (No RAC points for that so forgive me for mentioning it, but she certainly deserves credit and I *had* to share these wonderful photos.)
Sage in the sunset;
Sage's curly lashes:
Me and Sage: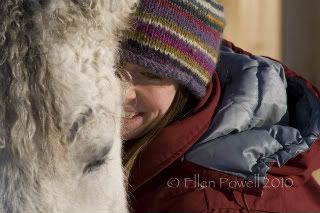 All photos by
Ellen Powell
. Thanks Ellen for sharing your talents with us!!