First of all, I just have to say, it's great to read about everyone else doing stuff with their horses. And it's really neat to see people in extreme winter conditions posting about doing what they can with their horses and at least getting some ground work in there even if they can't ride.
Last winter I didn't ride Sage much at all. I remember getting on bareback and wandering around at a walk for a few minutes but I really didn't know what else to do with him. We had icy footing for a good portion of the season, and he still had some lameness issues going (I still had some health issues going on too.) I had such high hopes for winter riding last year and then was disappointed when they didn't come true.
I was worried this year would be the same; lots of hopes and not much riding. But look!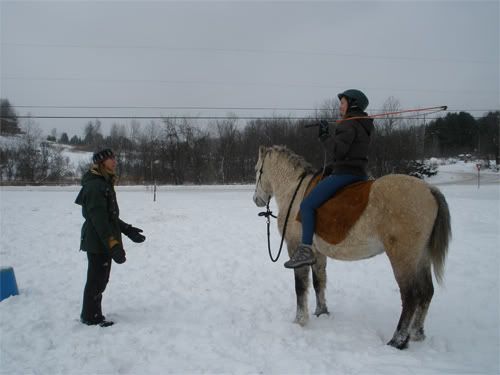 Guess that makes this year new and different! :]
That picture is from Sage and I having our riding lesson on Friday. I took the day off from work to spend time with the horses so we scheduled our trainer to come give us lessons. She wisely arrived bundled in snow pants, a neck gaitor, and a very warm hat. Mom and I both got a lesson in dressing for winter lessons as we got very cold! It was 15° F (-10° C), but the windchill made it feel much colder.
Mom and her Mustang mare Thea had their lesson first. I got Sage dressed in his el companero bareback pad, which I love, and soon got on just to stay warm!
During our lesson we spent a little time playing 'follow the leader' as Thea is new to being under saddle and needs practice following other horses. Then Mom got cold and went back inside and Sage and I did some trotting! sage has a nice smooth trot normally but wow is it different riding through deep snow!! i felt like I was riding a little warmblood and it was really fun. We kind of lost steering in the trot, with Sage wanting to run straight into the corners and stop rather than turning through them. My job was to keep him going forward and give him the room to figure it out. I wanted to use the reins at first to *steer* him through every corner but my riding instructor was good at reminding me to give him time to work through it himself. by the end he realized it was easier to turn himself rather than trot forward, stop, and have me get after him and make him trot faster...
Then we needed a little rest, so we spent some time working on disengaging sage's hindquarters. In dressage this is turn on the forehand, and in Natural horsemanship you accomplish it in much the same way; turn your hand like you're turning a doorknob to get the bend in the horse's neck, then turn and look at their hind end and use a light leg aid until they cross their hind legs underneath themselves.
Sage was pretty dead to my leg. I was squeezing his side for all I was worth and he was just standing there looking amused. So My trainer handed me the carrotstick to use as a way of reinforcing a lighter leg aid. So step 1 was turning to look at his hind end while I held a light bend in his neck, step 2 was a light leg aid, and step 3 was taking the carrotstick and tapping him rhythmically on the hind end.
I only had to tap Sage once before he magically started disengaging from a light leg aid. He's a very smart cookie.
The whole theme of the lesson was really about not micromanaging your horse, especially when he's a smart and alert curly that is perfectly capable of taking responsibility for himself, and turning through corners or listening to your aids without you 'nagging' him as a rider. It was a good reminder to me, as when Sage says "can't heaaarrr youuu!' I am sometimes tricked into 'talking louder' rather than keeping a light aid and then reinforcing it properly.
I had SO MUCH FUN riding and our instructor comes back in 2 weeks for another lesson. I was really surprised at how much we could still do even in the deep snow. We'll take that over icy footing any day! And, I am now very motivated to buy much warmer socks! (Any recommendations??)
Stay warm everyone!
Brie & Sage